Lying just 30 miles south of London, and two hours from the Channel Ports, the historic spa town of Royal Tunbridge Wells is in the heart of South East England in the beautiful Kentish Weald, officially designated as an Area of Outstanding Natural Beauty.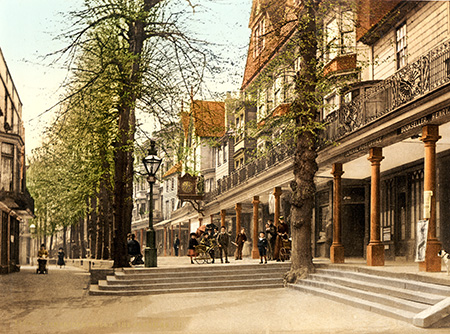 Once the playground of royalty and the aristocracy, Tunbridge Wells rivalled Bath and nearby Brighton as the place to see and be seen. With its elegant Georgian Pantiles it remains one of the major tourist attractions in the South East, and the variety of important language schools in the borough, means it is already a centre of international activity.
As its name suggests, TWIMC was founded in Tunbridge Wells, and has flourished there ever since. In 2016, as part of a planned major development, we have moved a few miles south to join the equally prestigious Mayfield Festival of Music and the Arts, whose musical director is Jeremy Summerly, the Director of Music at St Peter's College, Oxford. We believe that this association will enhance the reputations of both organizations.